Morris & Essex Dog Show
BOB Jack
&
Best Puppy in Sweeps
Lexie
May 17, 2015 Jack becomes an AKC Champion!
News:
Watch Abbie on Thanksgiving Day after the Parade on TV. 12 pm, NBC Terrier Group
http://www.nbcsports.com/national-dog-show/terrier-group-staffordshire-bull-terrier-0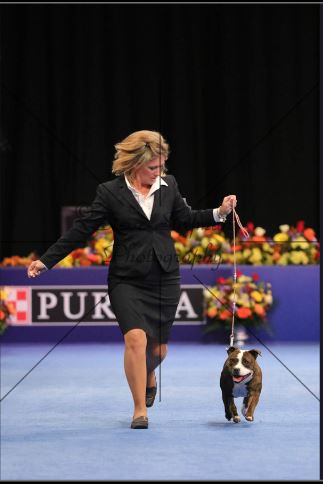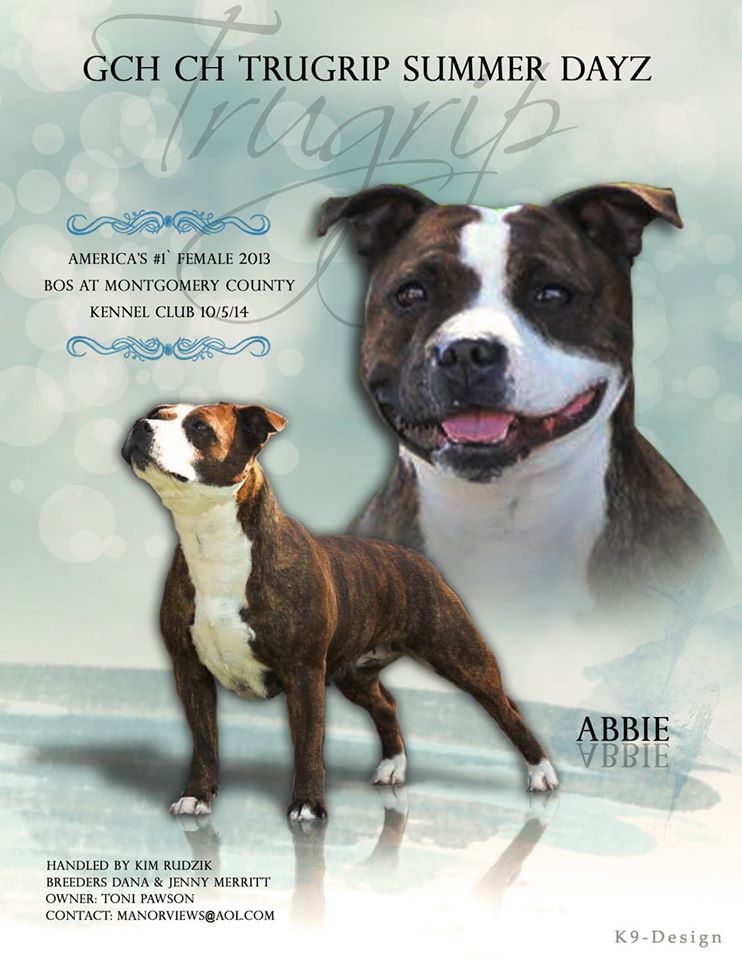 GCH Trugrip Summer Day aka ABBIE BOS at the 138th Westminster Dog Show, two years in a row. Watch it here:
GCH Trugrip Summer Dayz aka ABBIE, #1 female Staffordshire Bull Terrier 2013!!!!!!!!!!!!!!!!!!!!!!!!!!!!!!!!!!!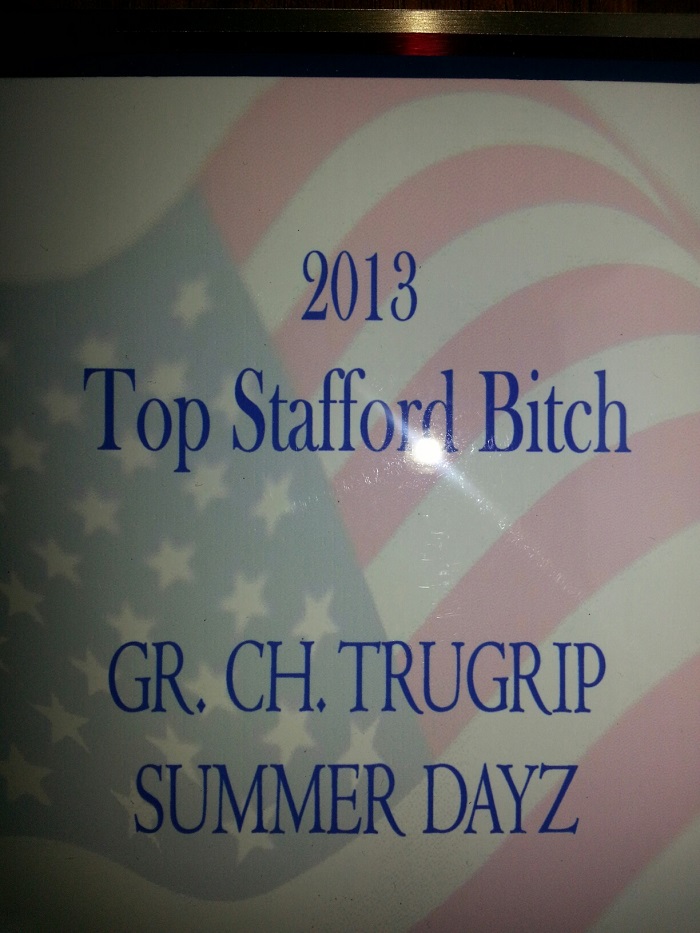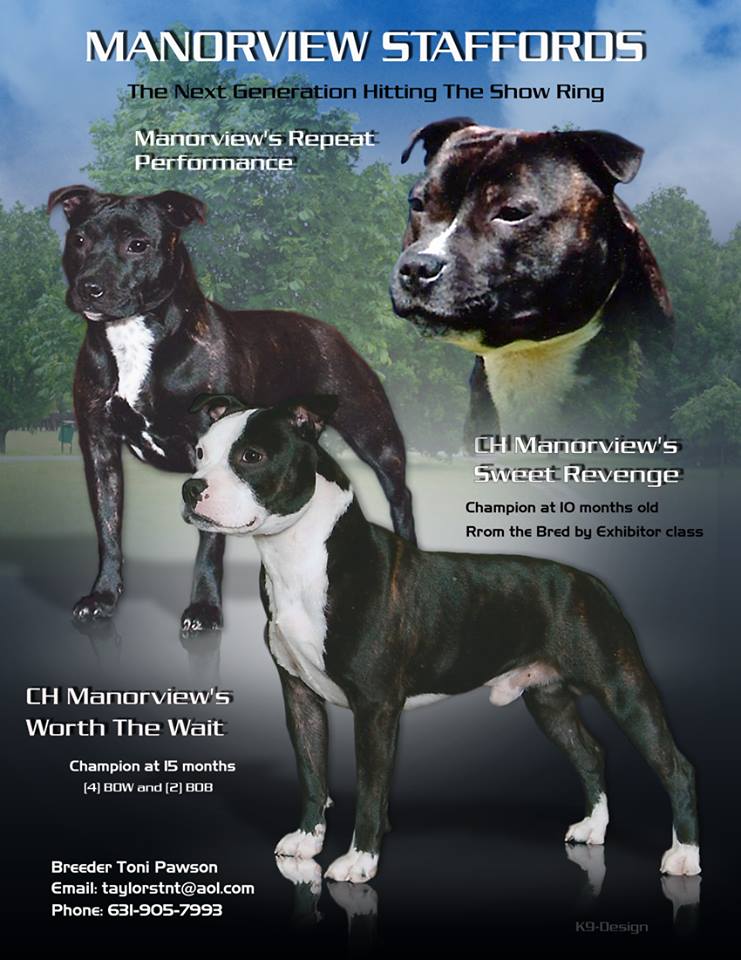 Check out The Stafford Knot and see who made the cover. Don't forget to subscribe to this online magazine, great info, articles, and more!
9/7/13
BROTHER / SISTER TEAM
ANNIE AND JUNIOR RESULTS:
JUNIOR-WINNERS DOG
ANNIE- BEST OF BREED
Abbie is now an AKC Silver Level Grand Champion!
Ajax first time in the showring goes Best of Breed two days, and Best of Winners 3 days, for a 5 day show week. CONGRATS!
Annie becomes an AKC Champion on May 5, 2013 under judge Kathi Brown at the Trenton Dog Show at 10 months old!!
Annie at 10 months old takes a Bred By Exhibitor Group 4.
Best of Opposite Sex
for ABBIE
aka
GCH Trugrip Summer Dayz
at Westminster 2/12/13
here is the link to watch the judging
Here is a picture of Madigan, one of Manorviews that we got to see. Yes this is the puppy that was running in the grass all grown up, what a beauty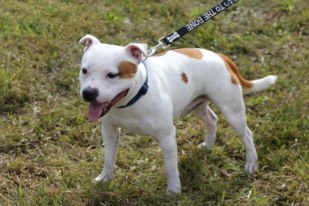 We are now on Facebook, check us out as we add more pictures of new and past puppies from Manorviews
Highlights from the 136th Westminster Dog Show featuring our Abbie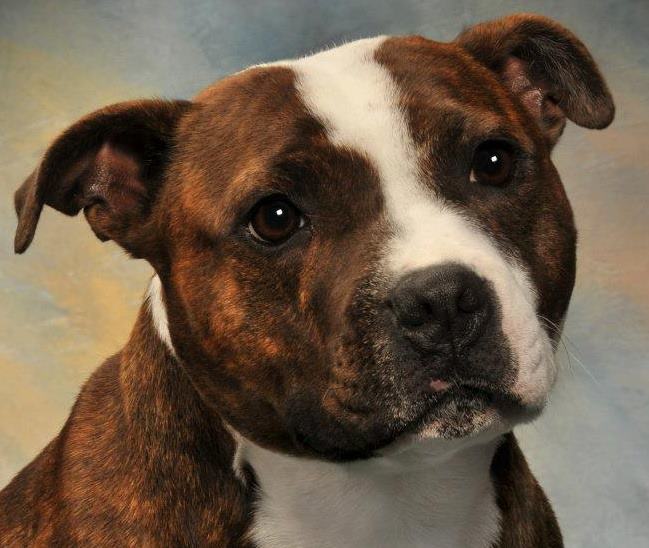 We had a great time at the AKC Meet the Breeds with Harry and Abbie. Take a look at the wonderful Staffords that showed the public what a great breed they are.
News
Take a look at our family, if you have any questions please call or email, I love to talk Staffy anytime!